Jennifer Lawrence, New York Times' Hollywood Heroine, Is Snake Charming (VIDEO)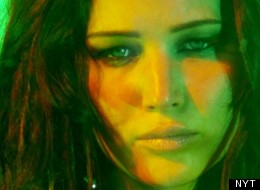 Jennifer Lawrence is having a good year. The 22-year-old actress starred in one of the year's biggest hits ("The Hunger Games") and one of the year's best-reviewed dramas ("Silver Linings Playbook"), a performance that most expect will snag Lawrence the second Oscar nomination of her young career.
Lawrence also gave a ton of epic interviews
, none greater than the chat she had with Melena Ryzik. Best no-context quote:
"I want a pizza with my face on it."
In Lawrence's clip, she's shown watering her front lawn with a hose that might also be a snake. Then it gets weird.
Watch the clip above. Check out some of Lawrence's best interview moments by
clicking here
.
Loading Slideshow